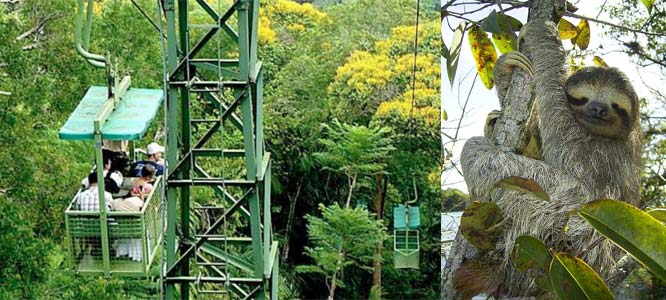 Viva Panama Tour
8 Days / 7 Nights
Deluxe Private Tour
Panama City, Canal, Mountains, Rain Forests, Beaches
Enjoy the comfort of delightful upscale accommodations combined with our superior personal service and you have the perfect combination for a relaxing, entertaining and educational tour. This is a great program for couples or for families.
Day 1: (Saturday) ARRIVE PANAMA
Arrive in Panama. Our staff will meet you at the airport for transfer to the Waldorf Astoria Hotel where you will have a Deluxe room. The hotel is only 150 feet from Balboa Avenue with its picturesque walking and bike path along the Pacific Ocean. Overnight Panama City
Day 2: (Sunday) PANAMA CITY TOUR & CANAL VISIT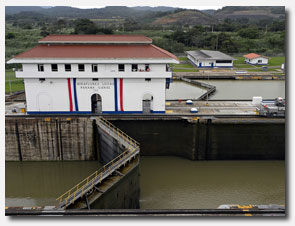 Our day will start at the Miraflores locks, located at the Pacific entrance to the Canal where our expert guide will let you in on the secrets and histories surrounding the building of the Canal while you experience this magnificent architectural masterpiece. Then we are off to the city, where you will be able to experience the beauty of the colonial city and the ultra modern business center. Included is a visit to the "Cause Way", a leisure paradise with shopping, restaurants and bars that offers spectacular views of the city and its skyscrapers. In contrast, the oldest sector of the modern Panama City founded in 1673, has a charming mixture of colonial architecture, cobblestone streets and ethnic diversity. UNESCO recently named this area a "World Heritage Site". Overnight Panama City
Meals: Buffet Breakfast
Day 3: (Monday) PANAMA - GAMBOA RAINFOREST RESORT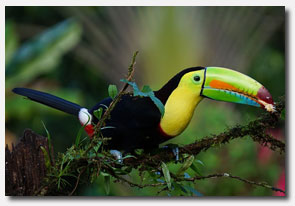 Mid-morning transfer to the Gamboa Rainforest resort where you will have a Deluxe river view room with private balcony. On the Chagras River and only a mile away from the Canal, the Resort is located within the Soberania National Park.
The park is popular with birdwatchers due to its abundance of bird species; some 525 species are found here. In addition there are 105 species of mammals including white-faced capuchin monkeys, mantled howler monkeys, Geoffroy's tamarins, two-toed sloths, three-toed sloths, southern tamanduas, white-nosed coatis, and agoutis. Green iguanas are also found in the park. Visitors can also explore the Las Cruces Trail (Camino de Cruces). This historical trail dates back to the 16th century and was used by the Spanish to transport gold. Parts of the trail are still lined with old stones that once marked the trail's original path. Overnight at the Gamboa Rainforest Resort.
Meals: Buffet Breakfast
Day 4: (Tuesday) GAMBOA, AERIAL TRAM, ECOLOGICAL EXHIBITS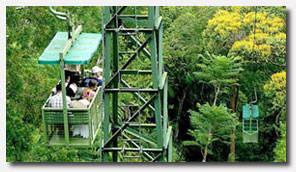 Enjoy taking the Aerial Tram. The tram takes you from the shadowy rainforest floor through the under growth and into the sun drenched forest canopy. There you can enjoy a bird's eye view of a thousand acres of green forest interspersed with flora and fauna. You will also visit the Orchid Gardens, the Serpentarium, the butterfly exhibit, the reptile and fish exhibit. Overnight Gamboa resort
Meals: Buffet Breakfast
Day 5: (Wednesday) GAMBOA RAINFOREST RESORT TO THE BEACH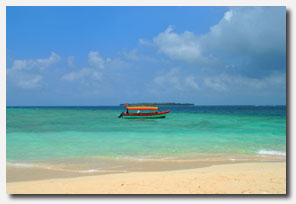 Mid-morning transfer from Gamboa to the Westin resort located in Playa Bonita, a fantastic beach property facing the pacific ocean.You will relax in an Ocean view Deluxe room. Resort features include a spa, gym, private beach, restaurants ranging from casual to fine dining, water sports and more. Overnight Playa Bonita
Meals: Buffet Breakfast
Days 6-7: (Thursday & Friday) PLAYA BONITA
Time to enjoy the beach and relax…or take optional (extra cost) tours ranging from fishing to kite surfing.
Meals: Buffet Breakfast
Day 8: (Saturday) INTERNATIONAL DEPARTURE
It's hard to leave but it's time to go. Staff will transfer you to the airport in time for your international departure.
Meals: Buffet Breakfast
Tour Includes:
2 nights accommodations at the new Waldorf Astoria with a Deluxe room, 2 nights at Gamboa Rainforest Resort with a river view Deluxe room and balcony, 3 nights at Westin Playa Bonita Beach Resort with Deluxe ocean view room.Daily buffet breakfast. Room taxes and service charges. Private transfers on arrival and departure as well as City-Gamboa-Beach. Private City tour of Panama and visit to the Canal (half day). Visit the Aerial Tram and exhibitions (half day)
Not included:
Air, items of a personal nature such as visas, entry or exit taxes, tips, laundry, beverages of any nature at any time, anything not specifically mentioned as included.
Tours must be booked at least 45 days prior to arrival.
Prices and itinerary subject to change without notice.

Inquire about this tour

Terms & Conditions



TOUR PRICE

Jan - April $1,936 per person, double occupancy
Single supplement: + $1,230 (based on minimum of two travelers with each having their own room)

May-Dec $1,719 per person, double occupancy
Single supplement: +$1,216 (based on minimum of two travelers with each having their own room)

Child sharing with two adults: $525 (valid for children under the age of 11).




Tours must be booked at least 45 days prior to arrival.
Prices and itinerary subject to change without notice.

Inquire about this tour