Morocco Imperial Capitals Tour
08 Days / 07 Nights
Group Tour
GUARANTEED TO OPERATE WITH A MINIMUM OF TWO TRAVELERS
Maximum of 08 travelers in a group
Day 01: ARRIVE CASABLANCA
Meet and greet at Casablanca airport, then transfer to your hotel to relax. Welcome dinner at the hotel preceded by a welcome meeting with your escort guide. Overnight at a Luxury Riad in Casablanca
Meals: Dinner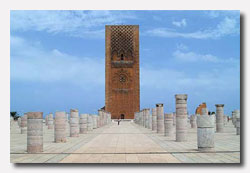 Day 02: CASABLANCA, RABAT
After breakfast, begin the city tour with an outside visit of Hassan II mosque, the largest mosque in the country and the 7th largest in the world. Continue to Ain Diab Corniche for a pleasant stroll along the coast. Your next stop is Mohammed V Square in the city center. The city tour of Casablanca includes also the Habous Quarter, one of the oldest areas in Casablanca. The district was built by the French in the 1930s as an attempted solution to the ongoing housing shortage. It marries the best of traditional Moroccan architecture with modern facilities and French ideals. Enjoy your lunch at a local restaurant then transfer to Rabat, the capital of Morocco and one of the Imperial cities. Enjoy an orientation short tour covering the entrance to the Royal Palace. Dinner and overnight at a Luxury Riad in Rabat.
Meals: Breakfast, Lunch and Dinner
Day 03: RABAT, MEKNES, VOLUBILIS, FES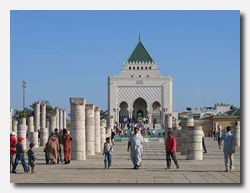 After breakfast, continue the city tour of Rabat. Stop first at the Kasbah of the Udayas, Rabat's medina. This kasbah is a fortification constructed on a hill, overlooking the Atlantic Ocean. The Kasbah of the Udayas was constructed during the realm of the Almohads. Continue to Mohammed V Mausoleum. This Mausoleum is home to the tombs of the current king's grandfather, King Mohammed V, and his two sons King Hassan II and Prince Moulay Abdellah. Inside the mausoleum, mosaics rise from the marble floor to a ceiling of gold leaf and hand-carved cedar wood, while the three ground-floor tombs are carved from white onyx. Next to the Mausoleum, stop at Hassan Tower, which is the towering minaret of the Hassan Mosque. The construction of the site began in 1195. The reminiscents are part of one of the oldest mosques left in existence. Transfer to Meknes, stopping to take pictures of the massive Bab El Mansour gate. Enjoy your lunch at a local restaurant. The city tour of Meknes will include the Harri Souani stables, the medina ramparts, and the entrance to the Royal Palace. Continue along to the UNESCO-sponsored Roman ruins in Volubilis where you will have a guided tour. Transfer to Fes for dinner and overnight at a Luxury Riad.
Meals: Breakfast, Lunch and Dinner
Day 04: FES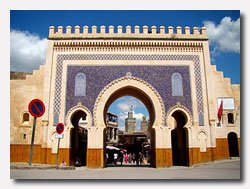 Enjoy a guided city tour of the spiritual capital of Morocco, Fes. The first stop of the morning is a visit to the entrance of the largest royal palace in Morocco. This palatial complex rests in the center of the Fes El-Jedid area and is surrounded by high walls with an intricate and elaborately decorated gateway that is permanently closed. The doors are bronze but they shine like gold. The next stop will be the old Medina (Fes el Bali). This medieval centre of Fez has not changed for centuries. Its narrow alleys house hundreds of merchants and craftsmen selling a range of products such as dates, fish, spices, copper urns and musical instruments. One of the most interesting sites in Fez is the Leather Souq and the oldest leather tannery in the world. The tannery dates back at least nine centuries. In the medina you will visit the Jamaa Al-Karaouine (the world's first established university) and a Medersa (a Koranic school). Lunch at a local restaurant and dinner at the hotel.
Meals: Breakfast, Lunch and Dinner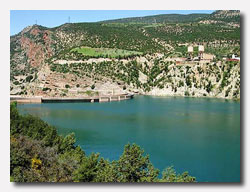 Day 05: FES, IFRANE, BENNI MELLAL, MARRAKECH
After breakfast, transfer to Marrakech. Stop first at Ifrane, a charming town and ski resort in the Middle Atlas region of Morocco. Ifrane is famous for its Alpine climate, European-style houses and its 1665 metres (5,460 ft) in elevation. The town experiences snow during winter months and a cool climate during summer. Ifrane is also the place where the lowest temperature was ever recorded in Africa, -24 °C in 1935. While in Ifrane, expect to find animals like the threatened Barbary Macaque and local tree species such as the native Atlas cedar, Scrub oak and the introduced London plane. We will then move on to Benni Mellal where you will stop for lunch. Continue to Marrakech for dinner and overnight at a Luxury Riad.
Meals: Breakfast, Lunch and Dinner
Day 06: MARRAKECH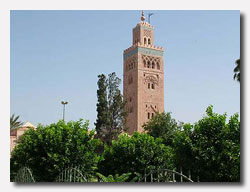 Enjoy the guided city tour of Marrakech after breakfast. The morning begins with a visit to the Kotoubia Mosque. The mosque is the largest in Marrakech and one of the oldest in the world. The minaret, 77 metres (253 ft) in height, includes a spire and orbs. It was completed under the reign of the Almohad Caliph Yaqub al-Mansur (1184 to 1199), and has inspired other buildings such as the Giralda of Seville and the Hassan Tower of Rabat. Continue to the world-famous Jemaa el Fna Square, which houses an array of food, snake charmers, local musicians, and fortune-tellers. There's nowhere on Earth like the Jemaa el Fna, the square at the heart of old Marrakesh. Your next stop is the Bahia Palace, and the Saadian Tombs. The Saadian tombs in Marrakech date back from the time of the sultan Ahmad al-Mansur (1578-1603). The tombs were discovered in 1917 and were restored by the Beaux-arts service. The mausoleum comprises the interments of about sixty members of the Saadi Dynasty that originated in the valley of the Draa River. Lunch at the hotel and dinner at a charming local restaurant. Overnight in Marrakech.
Meals: Breakfast, Lunch and Dinner
Day 07: MARRAKECH TO CASABLANCA Enjoy the morning at leisure to relax or wander on your own. Lunch at a local restaurant then transfer to Casablanca for dinner and overnight at a Luxury Riad.
Meals: Breakfast, Lunch and Dinner
Day 08: INTERNATIONAL DEPARTURE
We will assist you to Casablanca airport for your return flight.
Tour Includes:
Ground transfers by air-conditioned vehicle relating to the tour program starting with arrival to Casablanca. Baggage handling of no more than 1 piece of luggage per person however baggage and personal effects are at the owner's risk at all time during the tour. Hotels (based on double occupancy). Meals as noted. Included meals are in the main dining room, no speciality restaurants or room service. Fees for visiting antiquity sites and museums shown in the tour outline. Services of an English speaking licensed guide. Hotel Service charges and taxes.
Not included:
Air, Items of a personal nature such as tips, entry visa, entry or exit taxes, airport fees, phone calls, laundry, beverages of any nature at any time, any items not specifically covered in the included items.
Tours must be booked at least 45 days prior to arrival.
Prices and itinerary subject to change without notice.

Inquire about this tour

Terms & Conditions



GUARANTEED TO OPERATE WITH A MINIMUM OF TWO TRAVELERS
Maximum of 08 travelers in a group




Prices starting at $925 per person, double occupancy
Email with your travel dates for a precise quote.



Tours must be booked at least 45 days prior to arrival.
Prices and itinerary subject to change without notice.

Inquire about this tour