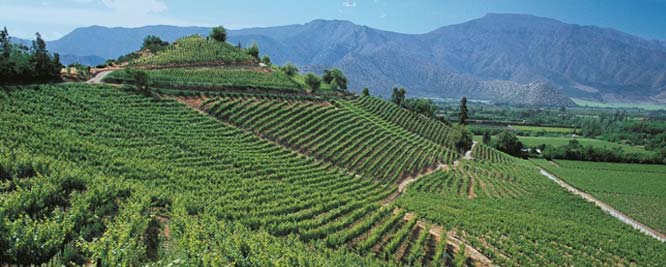 Chile & Argentina Wine Tour
10 Days / 09 Nights
Custom departures on request
Three mesmerizing cities plus two world-class wine regions. This tour allows travelers to explore the best of South America's wine country. Immerse yourself in Chilean and Argentine culture & gastronomy, all in one unforgettable trip. You will enjoy five days in Chile and five in Argentina with three days in Mendoza plus two days in Buenos Aires.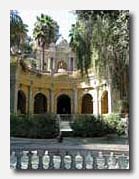 Day 01: (Saturday) ARRIVE SANTIAGO, CITY TOUR
Many flights from North America arrive to Santiago in the morning. No matter what time you arrive your Santiago guide will meet you at the airport and accompany you to your hotel. In the afternoon, there will be a guided city tour of the historical and cultural highlights of South America's most modern city. Overnight Santiago
NOTE: Because of the long flight some travelers like to arrive a day early and rest before starting the tour on Saturday. We can move your airport pick up to Friday and add the extra night hotel if you so desire. The transfer cost is included with the tour however you would pay for the extra hotel night.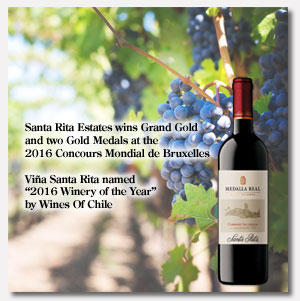 Day 02: (Sunday) MAIPO VALLEY: CONCHA Y TORO AND SANTA RITA VINEYARDS
Maipo Valley, the "cradle of Chilean wine-making", is the oldest and most famous of Chile's wine regions as it is home to many of Chile's most traditional wineries. However, many new boutique wineries have opened over the past ten years producing some exciting top-class wines in the region. We will enjoy tastings at the Concha y Toro and Santa Rita wineries.
The Concha y Toro Vineyard was founded by Don Melchor de Santiago Concha y Toro and his wife, Emiliana Subercaseaux, in 1883.To start the winery, he brought grape varieties from the Bordeaux region in France. The grapes that he brought were: Cabernet Sauvignon, Sauvignon blanc, Semillon, Merlot, and Carmenère.
Santa Rita was founded in 1880 by Domingo Fernandez, this historic property was among the first to pioneer plantings of European grape varieties in Chile.
Return to Santiago for the evening.
Meals: Breakfast, Lunch
Day 03: (Monday) CASABLANCA VALLEY: MATETIC AND INDOMITA VINEYARDS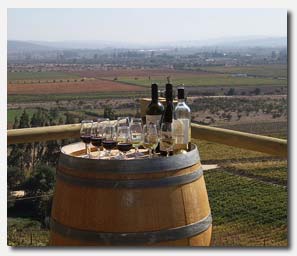 Matetic wines are produced following biodynamic principles, certified by Demeter-Germany, with 100% organic grapes and taking special care of the surrounding environment. To achieve perfect balance, delight in a delicately paired lunch and wine, enjoy a horseback ride or mountain bike ride through the estate, and then relax at a wine tasting in our Winery. The story of the Matetic Winery began in 1999 when the Matetic family decided to diversify their business ventures and enter the world of wine. Confident in the virtues of the climate and soils in the Rosario Valley, they planted 222 acres of vineyards. The Matetic vineyards are located in the Rosario Valley, a subdivision of the San Antonio Valley. This completely enclosed valley is perpendicular to the ocean and features ideal climatic and topographic conditions for both red and white wines. The vineyards are certified organic by CERES GmbH and follow Biodynamic practices as well. All wines are hand-picked and estate bottled.
Indomita is a newcomer to the world of fine wines. Open since 2006 Indomita has set records for it's wines, becoming one of the country's leading vintners.
Return to Santiago for the evening.
Meals: Breakfast, Lunch
OR
COLCHAGUA VALLEY: VINEYARDS ALA CARTE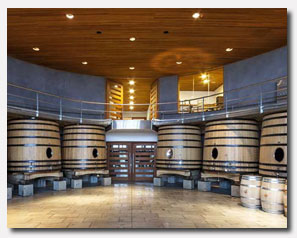 Two hours south of Santiago is one of Chile's largest wine regions and most developed from a "tourism" perspective. The Colchagua Valley is known for producing some of Chile's best wine, particularly the red varietals of Cabernet Sauvignon, Carmenere Syrah and Malbec. We will visit two of the outstanding wineries of the area, Laura Hartwig and Casa Lapostolle.
Laura Bisquertt inherited the property of "Santa Laura" from her father in 1966. Later, her husband, Alejandro Hartwig, and she moved to Canada, where they discovered their passion for excellent wine. Coming back to Chile, they decided to open their winery as a retirement project and named it after their daughter.
Casa Lapostolle Winery, created in 1994 by Alexandra Marnier Lapostolle (of the Grand Marnier family) produces some of the best QPR (quality/price ratio) wines in Chile. Its outstanding debut 1997 vintage, Casa Lapostolle's Clos Apalta has helped to establish Chile as a premier red-wine region. Owner Marnier-Lapostolle and her team created a blend of Chile's distinctive Carmenère variety, Merlot and Cabernet Sauvignon sourced from the estate's oldest vines in Colchagua's Apalta sub-valley, then kept refining: fermenting in smaller lots, hand-de- stemming berries and constructing a gravity-flow winery. In 2008, they were awarded a 96 in Wine Spectator for their Clos Apalta wine which was also chosen as the top wine of the year. Lunch at the Clos Apalta winery with a spectacular view of the valley.
Return to Santiago for the evening.
Meals: Breakfast, Lunch
Day 04: (Tuesday) ACONCAGUA VALLEY: SAN ESTEBAN AND ERRAZURIZ VINEYARDS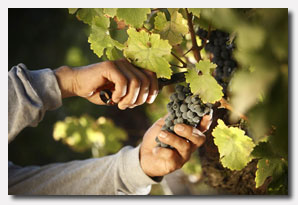 Viña San Esteban is located in central Chile, northeast of Santiago, at the mountainous, eastern edge of the Aconcagua Valley. The Aconcagua Valley is among the few terroirs worldwide capable of producing wines of the highest quality. Situated along the Aconcagua River, nestled in the foothills of the Andes Mountains, where sun and breezes create the temperature variability needed for grapes to reach optimal ripeness. The noontime breeze cools the vineyard, allowing expression of the complex and elegant aromas that characterize Aconcagua Valley wines. Viña San Esteban is a pioneer in hillside-vineyard planting, taking full advantage of the unique combination of rocky soil and solar exposure which creates grapes rich in structure and character. The shallow hillside soil of the eastern Aconcagua Valley was created simultaneously with the Andes Mountains during the Cretaceous period (65-99 million years ago). In the millennia since, rock fragmentation has created a mixture of eroded rock, clay, and drainage capacity, the perfect combination for growing ripe and concentrated wine grapes. Additionally, the Aconcagua River, flowing from the base of Mt. Paidahuén, provides the Aconcagua Valley with fluvial soil composed of drift stones and rock fragments from the Andes Mountains. The light texture of this soil regulates water retention and excess vigor, thus favoring the concentration of aromas and tannins in the grapes, and further adds to the uniqueness of the wines. Grape varieties include: Cabernet Sauvignon, Merlot, Carmenère, Syrah, Sangiovese, Cabernet Franc, Malbec, Mourvedre, Petit Verdot, Chardonnay, Sauvignon Blanc, Moscatel and Viognier.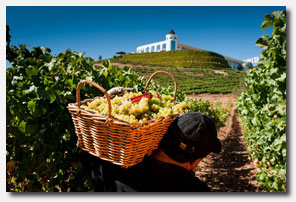 Viña San Esteban was founded by José Vicente, an established grape producer, and his son Horacio, a Bordeaux-trained winemaker, to produce quality Aconcagua Valley wines. Both father and son are proud to participate in the long-standing tradition of Chilean viticulture, and the lands which encompass the vineyard and winery have been in the Vicente family for generations. Horacio has a rich and diverse background in both wine growing and winemaking. He has held positions in France at Château Mouton Rothschild and Mouton Cadet, (continued next page) and in the United States at Chalone Vineyard, one of the first boutique wineries in California. These experiences have undoubtedly helped Viña San Esteban capture numerous regional, national, and international awards for winemaking excellence.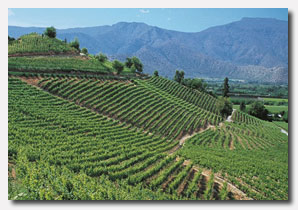 Don Maximiano Errázuriz founded Viña Errazuriz in 1870 with great vision, innovative and pioneering spirit, planted the first vines of French vines in the Aconcagua Valley. His drive and creativity were transferred to future generations and in little over a century, their descendants consolidated the winery and its wines positioned among the most renowned in the world. Recognizing that the valley, with its cool, rainy winters, hot, dry summers and moist Pacific Ocean breezes, was ideal for growing grapes, Don Maximiano sent for the finest clones from France and with tenacity and perseverance transformed this barren land into a world-class vineyard. Today, the tradition of quality lives on with Don Maximiano's descendant, Eduardo Chadwick. Eduardo is the sixth generation of his family to be involved in the wine business. Eduardo has overseen the modernization of the winemaking technology at this historic estate while maintaining a distinct identity for its wines. Dedicated to producing estate grown wines of superior quality, Errazuriz has built a reputation as the "Best of Chile". Errazuriz's philosophy is best expressed by Don Maximiano who said, "From the best land, the best wine". As an estate winery, Viña Errazuriz strives to produce the finest wines by controlling every stage of the winemaking process, from grape growing in the Aconcagua, Casablanca and Curico valleys, to winemaking with the most natural techniques. An emphasis is placed on the delicate handling of the wines, with the aim of producing wines with elegance and complexity. It is his dynamism and passion for wine that has made Errazuriz such an internationally respected producer of quality wines.
Return to Santiago for the evening.
Meals: Breakfast, Lunch
Day 05: (Wednesday) SANTIAGO TO MENDOZA, CITY TOUR
Staff will transfer you to the Santiago International Airport for your flight to Mendoza (travelers flight reservation). Arriving Mendoza staff will transfer you to your hotel for check in and then enjoy a tour of the city. Overnight Mendoza
Meals: Breakfast
Day 06: (Thursday) VALLEY DE UCO: ALA-CARTE VINEYARDS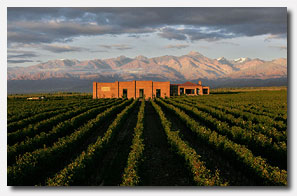 Today we will visit the high-altitude wine growing area of Valle de Uco. This is the new frontier in Argentine winemaking and contains some of the most dramatic vineyard scenery in the region. The snow-capped Andes loom overhead with 1,800 meter vineyards running into the foothills. The architecture, technology and fine wines being created here are all quite impressive. We will tour three wineries of your choice with tastings: Atamisque, Andeluna, Jean Bousquet, O. Fournier, Saletein, La Celia, La Azul.
Overnight Mendoza
Meals: Breakfast, Lunch
Day 07: (Friday) LUJAN DE CUYO: ALA-CARTE VINEYARDS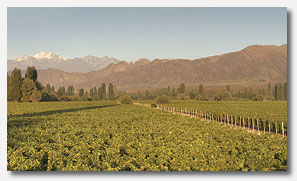 Located in a valley just south of Mendoza City, the Lujan de Cuyo region is home to some of the most famous names in Argentinean wine, including Catena Zapata, Bodega Septima and Cheval des Andes. Malbec is the region's most-important grape variety, producing bold, intensely flavored red wines. The small town of Lujan de Cuyo is on the northern banks of the Mendoza River, and it is from here that the viticultural area of the same name stretches south for roughly 20 miles (32km) between the Andes Mountains in the west and the Lunlunta hills in the east. The region was the first in Argentina to be officially recognized as an appellation in 1993, and includes the wine-producing zones of Vistalba, Las Compuertas, Perdriel, Agrelo and Ugarteche. Maipu lies directly east of Lujan de Cuyo and the Uco Valley is to the south. While Malbec is king in Lujan de Cuyo, excellent wines are also produced here from Cabernet Sauvignon, Chardonnay and Torrontes.
Overnight Mendoza.
Meals: Breakfast, Lunch
Day 08: (Saturday) MENDOZA TO BUENOS AIRES
Staff transfers you from the hotel to the Mendoza airport for your morning flight to Buenos Aires arriving mid-day (Travelers flight reservation). Our local guide will meet you at the airport and accompany you to your hotel. The afternoon is free to take advantage of South America's most cosmopolitan city surroundings and relax. Overnight Buenos Aires
Meals: Breakfast, Lunch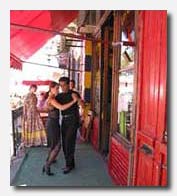 OPTIONAL (cost not included in tour): Attend a glamorous Tango show with dinner in one of the most prestigious tango houses in Buenos Aires. Borne in the outskirts of Buenos Aires at the turn of the 20th century, Tango quickly grew to be the best known Argentine specialty worldwide. Our VIP seating assures you a great view of this special program. This does not need to be pre-booked. Can be arranged on arrival.
We suggest:
La Ventana: http://www.laventanaweb.com/
or http://www.galatango.com/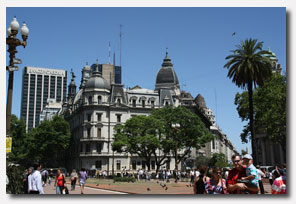 Day 09: (Sunday) BUENOS AIRES CITY TOUR
Today you will enjoy an exclusive City Tour of Buenos Aires during which your guide will visit four parks and plazas to introduce you to the city, its history, its contrasts and the characteristic "porteno perspective". The afternoon is free to explore - perhaps some world-class shopping in the downtown La Florida sector, or in the chic boutique galleries of Palermo Viejo/Soho that house Argentina's top styles by its distinguished designers. Overnight Buenos Aires
Meals: Breakfast
Day 10: (Monday) INTERNATIONAL DEPARTURE
With so much to see and do, your last day in Buenos Aires is free to elect additional sightseeing or shopping in parts of the city you would like to experience. Staff will transfer you to the Buenos Aires airport for your international departure.
Meals: Breakfast
INCLUDED:All ground transportation related to the tour program in clean air conditioned and comfortable vehicle from arrival to Santiago, Professional bilingual guide. Hotels (based on double occupancy): Four nights in Santiago with breakfast. Three nights in Mendoza with breakfast, Two nights in Buenos Aires with breakfast. 11 winery visits with tastings. 5 winery lunches. Bottled mineral water on tours (in vehicle).
NOT INCLUDED:Flights, entry or exit taxes. Gratuities for drivers and guides. Gratuities with included meals. Any item not mentioned in included.
NOTE: We make every effort to provide you with the program as it is presented herein. However, certain unexpected events at wineries can mean the cancellation of a visit - for example a large distributor decides to make an unexpected visit. Additionally, as the wine industry in Chile is rapidly changing, there may be exciting developments that we think are important to share with our discerning customers. We reserve the right to substitute scheduled winery visits as needed.
Tours must be booked at least 45 days prior to arrival.
Prices and itinerary subject to change without notice.

Inquire about this tour

Terms & Conditions